Jerry's LEDs offer handcrafted floundering lights that are custom-built to provide the best quality throughout the process. Our ultra-bright LED lights are available throughout the United States, so you can always get your best catch!
Lighting up the Coast One LED Light at a Time!
Jerry's LEDs began in 2010 as a small hobby building flounder gigging lights for friends. In just a few years, we've developed into a flourishing business catering to thousands of satisfied customers across the country. We've lit up the coast from Virginia, South Carolina, Georgia, Florida, Alabama, Mississippi, Louisiana, and Texas, to name a few, and we're still going further!
Our lights can be used for several purposes—flounder gigging, walk flounder gigging, flounder lights for boats, frog gigging, bully net lobster fishing, bow fishing lights, LED fishing lights, crappie fishing lights, green fishing lights, LED pier lights, and anything else you can dream of.
We're dedicated to quality and reliability in everything we do, which is why every single one of our floundering lights is individually handcrafted. Our specialized staff takes the utmost care to create only the best
products
along with superior control testing of every product before shipping them out. We're incredibly proud of our process and craftsmanship, and the effort we take to cherish all our customers.
Each unit is built with custom, premium components for the highest quality products:
OEM built heatsinks with specially serrated fins for more heat dissipation when used above water.

Hard anodized OEM heatsinks to protect our products from saltwater abrasion and corrosion.

Superior optical potting compounds that are waterproof and water clear to distribute the maximum amount of light.

Military specification silver-coated copper wire for maximum power and corrosion resistance. Heavy-duty double insulated for abrasion resistance.

All stainless steel fasteners and bronze nuts.

LED chips made in the USA.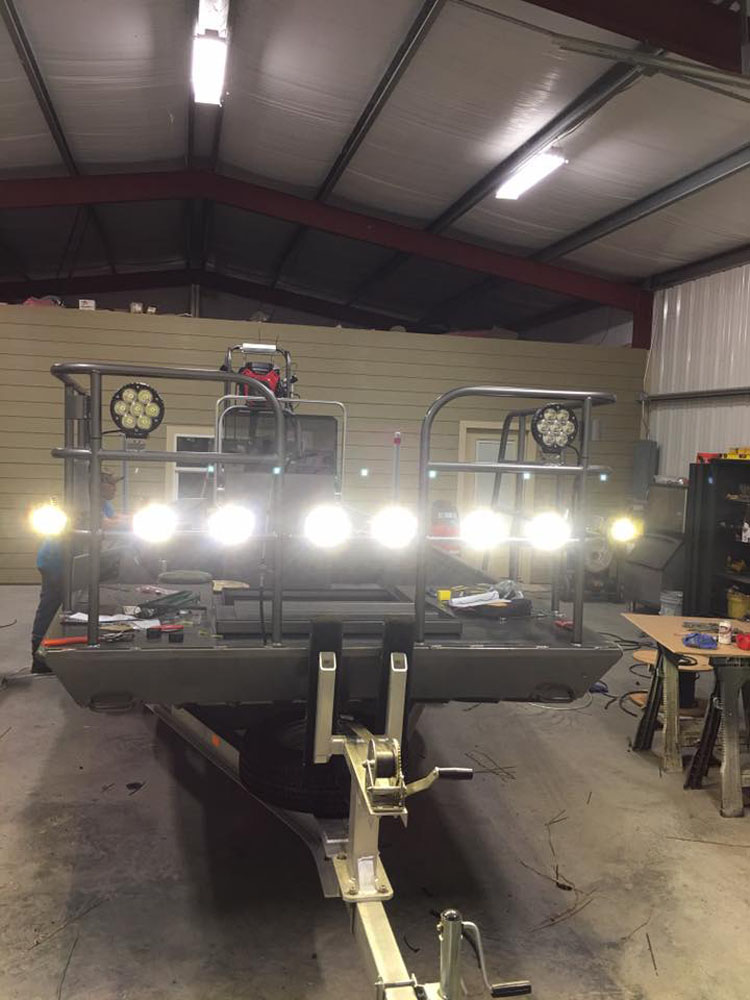 All our products are guaranteed by Jerry's Warranty.
30W–40W Lights: Lifetime warranty against manufacturer's defects.
50W or higher: One-year warranty against manufacturer's defects.
Please get in touch with us if you need to place a warranty claim. During the claim process, you will be asked to return the product with as much of the wiring as possible. If any splices were used, they should be left on the product.
*Note: Warranties will be voided if the products show any evidence of abuse, modification, neglect, improper maintenance, or intentional or accidental misuse or damage.
Browse Our Products at Jerry's LEDs in Texas
Jerry's LED is the premier manufacturer of high-quality LED lights for fishing and gigging in Texas. Our flounder gigging LED manufacturer specializes in providing top-of-the-line lighting solutions for fishermen needing reliable, high-performance gear to help them catch more fish. Our products are designed with the latest LED technology to ensure you have the best experience on the water, day or night.
Improve Your Fishing Experience with a Flounder Gigging Light Setup
Whether you're looking for flounder gigging LED lights or underwater green fishing lights, we have everything you need to do the job. Our flounder gigging LED lights are manufactured here in Texas and are specifically designed to meet the unique needs of local fishermen. We offer many flounder lights for boats and underwater flounder gigging lights for your boat.
Our underwater green fishing lights are another popular product designed to attract various fish species and improve your chances of catching a big one. Our energy-efficient LED technology lets you enjoy bright, high-quality lighting without draining your battery.
At Jerry's LEDs, we are committed to providing the highest customer service and satisfaction. We stand behind all our products and are dedicated to helping you find the perfect lighting solution for your needs. Contact us today to learn more about our products or to buy LED gigging lights, flounder gigging LED lights, or underwater green fishing lights.